When you first arrive at college, making friends may seem like an impossible task, especially if you find yourself completely alone in your freshman dorm room. But if you're dedicated to finding new friends, you'll find plenty of ways to make friends in college—and fast! Check out these seven simple ways to meet people in college to give yourself the social life you deserve as soon as possible!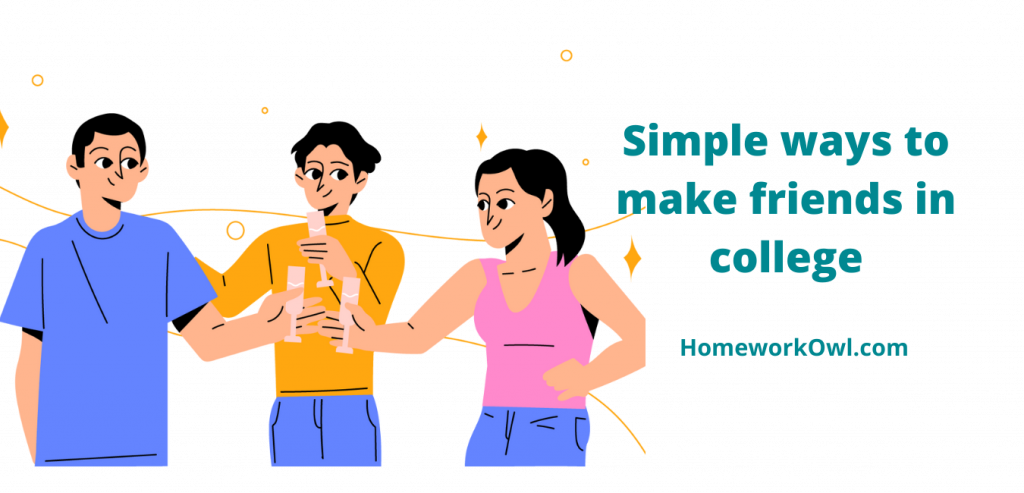 7 simple ways to make friends in college
Attend Class
Join Campus Organizations
Reach out to friends from high school
Join Student groups
Get involved on campus
Go to events or parties
Have other activities that keep you busy
Attend Class
It's easy to make friends as a student because you're all going through the same thing. In fact, it's likely that many of your classmates will be looking for a friend too! Going to class will force you out of your dorm room and put you in contact with new people who are going through a similar struggle. If you skip class, you probably won't end up meeting anyone—and that would really stink.
Join Campus Organizations
Whether you're a freshman, a sophomore, or a senior, getting involved on campus is one of the best ways to meet people. Most college campuses have more student organizations than you can keep track of, and most students don't take advantage of it. Become a part of a few clubs that interest you and join up. Many campus groups hold weekly meetings for which attendance is optional, but participation is encouraged. The sooner you get started making friends at your school, the better!
Reach Out To Friends From High School
If you didn't have a ton of friends from high school, don't worry! When I started college, I had about 10 close friends from high school. In college, though, I made a whole bunch of new friends by joining clubs and activities. If you aren't super outgoing or shy, reach out to your closest group of friends from high school and ask them if they know anyone at your college. Chances are one of their good friends will be going too!
Join Student Groups
There are so many different groups on campus for so many different things—everything from music to politics. Join groups related to your major, join groups that connect you with other people in your dorm, join anything and everything! You never know where connections will come from. Don't be shy about joining student groups because there are plenty of people who want to do exactly what you're trying to do: make friends. Joining clubs and organizations might feel like hard work at first (after all, meeting new people always does), but over time it will get easier and easier; soon enough, it'll feel like second nature.
Get Involved on Campus (even if you aren't getting paid)
If you're an introvert, finding friends might seem like a challenge. One of the best ways to make friends is by getting involved on campus. Join a social cause or club that interests you, or even something as simple as putting up flyers for different groups will help you meet people who share your interests. If you already know people at school, try asking them if they know any other students with similar interests. The more invested you are in campus life, whether it be through organizations or extra-curricular activities, your chances of meeting new people increase exponentially! Some schools even offer group chats via social media where students can ask questions about classes and events; these can make great opportunities for friendships as well!
Go To Events (parties, lectures)
Who knew that college would be so difficult? It's hard enough just trying to figure out how classes fit into your schedule, but it turns out making friends is even more challenging. That's why you've got to get yourself out there and make some friends. Stop staying in on Friday nights and start going to events (parties, lectures). Go ahead and try something new; you never know who you'll meet!
Have Other Activities (workout classes, after-school jobs)
Having other activities besides your social life can help you meet people outside of your circle. This could be a workout class or even an after-school job that provides opportunities for socializing with other students. It's also important to note that while it might be tempting to put all your eggs in one basket by surrounding yourself with friends who are just like you, it's often recommended to get out of our comfort zones. Having an interest outside of hanging out with your new clique will give you a common ground to start a conversation, too.
Wrapping up
Making friends is easier said than done. But that doesn't mean you can't figure out how to make friends in college. It's all about getting out there and putting yourself in social situations with people who share your interests.